Children's Dental Care
At Aspendale Gardens Dental Group, we provide a friendly, comfortable environment for the whole family. As your local family dentist, we look forward to helping you look after your child's teeth from babyhood to their teenage years and beyond.
Children's dental services we provide include:
Check-ups and x-rays
Teeth cleaning and fluoride treatments
Fissure Sealants
Oral health education
Orthodontic assessments
Sports mouthguards
Dental Restorations i.e. Fillings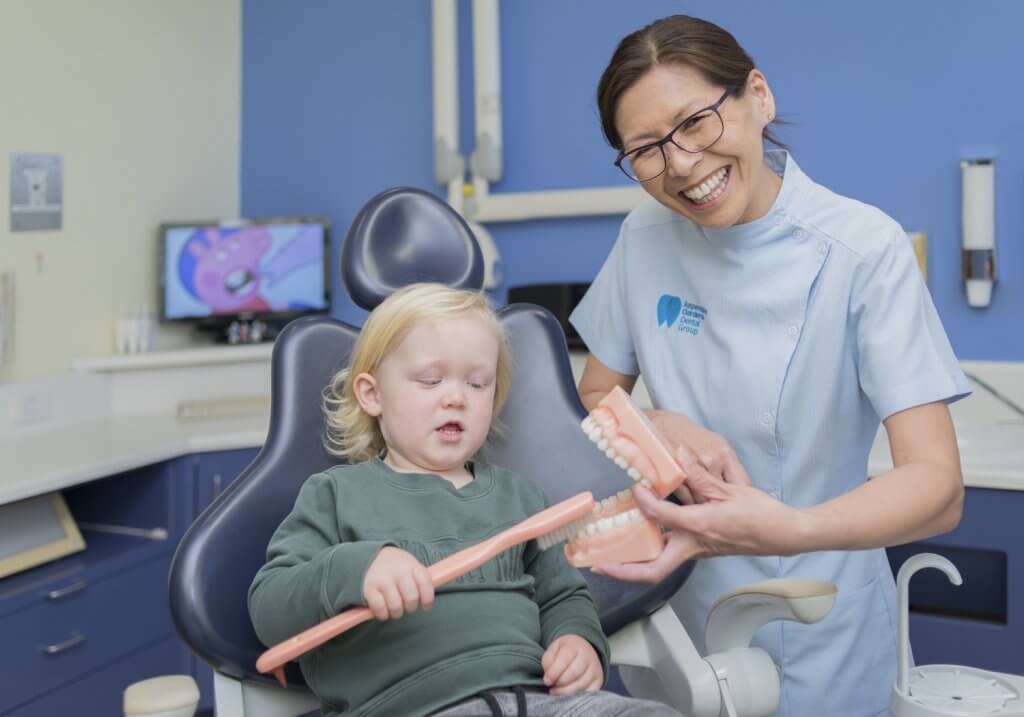 When should I make my child's first appointment?
We recommend that children start seeing the dentist when their first teeth appear or by the time they turn one year old.
You are welcome to bring them in earlier if you have any questions or concerns.
Young children should have a dental examination every 6 months as dental decay can progress very quickly in a child's mouth. Preventing problems by early detection is important to us at Aspendale Gardens Dental Group.
Get them comfortable at the dentist
It is vital that children get used to coming in to see the dentist while they are young. This will help them form good associations and avoid any fear of dentists.
While children are growing, we monitor their facial growth and dental development closely. This will help avoid crowding of teeth and jaw issues. We also assess and address factors such as large tonsils, sleep apnoea or snoring, mouth breathing, and thumb sucking.
Bringing children for a dental examination at an early age can help diagnose any problems early and will create a happy, healthy, trusting relationship with the dentist that will last a lifetime.
Tips For Keeping Your Children's Teeth Healthy
Brushing Twice a Day – It is very important for children to brush their teeth at least twice a day using a soft toothbrush and a fluoride toothpaste. Regular removal of dental plaque will help reduce the chance of tooth decay and keep gums healthy. Younger children should be monitored closely to ensure they use the correct technique and clean efficiently.
Floss Daily – Children should be encouraged to remove food and plaque debris from between their teeth by flossing daily. This helps remove trapped particles that the toothbrush cannot reach.
Healthy Eating Habits – High sugar foods produce dental cavities if eaten too regularly. It is important to monitor the frequency and amount of high sugar foods your child consumes throughout the day.
Healthy Drinking Habits – Many commonly available drinks are very high in sugar and acids. These include soft-drinks, sports drinks, fruit juices and cordials. Children should be encouraged to drink fluoridated tap water on a regular basis.
Wear a Sports Mouthguard – Wearing a professionally made mouthguard during sport greatly reduces the chance of injury to your child's teeth. Many traumatic injuries to children's teeth could be prevented with regular mouthguard wear.
Regular Dental Check-Ups – Children should start visiting the dentist every 6 months from an early age to help familiarise them with their dentist and remove any apprehension that may develop with irregular visits. It is also a good opportunity to reinforce oral hygiene and help detect any problems early.
At Aspendale Gardens Dental Group, we are passionate about caring for children's oral health. A healthy smile can build confidence and educating children in the techniques for maintaining their teeth and gums is very important to us.
Find out what the Australian Dental Association recommends for children and teenagers.
Medicare Child Dental Benefits Schedule
What is the Medicare Child Dental Benefits Schedule (MCDBS)?
The Medicare Child Dental Benefits Schedule is a dental benefits program for eligible children aged 2‐17 years that provides up to $1,000 for eligible basic dental services.

What Dental Treatment does the MCDBS cover?
Services that receive a benefit under the program include;
dental examinations
x‐rays
cleaning
fissure sealing
fillings
root canals
tooth extractions
Benefits are not available for orthodontic or cosmetic dental work and cannot be paid for any services provided in a hospital.
Which Children are eligible for the MCDBS?
The Department of Human Services assesses a child's eligibility from the start of each calendar year. A child is eligible if they are eligible for Medicare, aged 2‐17 years at any point in the calendar year and receive a relevant Australian government payment, such as Family Tax Benefit Part A at any point in the calendar year.
A notification of eligibility will be sent to the child or the child's parent/guardian either electronically, or by post. This letter may be presented by the patient to the practice at the time of their appointment.
Routine checks are performed throughout the year to determine newly eligible children. Most children will be notified of their eligibility at the beginning of the year.
How long does eligibility last?
Once a child has been assessed as eligible, they are eligible for that entire calendar year – even if they turn 18, or stop receiving the relevant government payment. However, they must be eligible for Medicare on the day the service is provided.
How do I check if my child is eligible?
You can check a child's eligibility online through Health Professional Online Services (http://www.humanservices.gov.au/hpos) or by calling the Department of Human Services on 132 150 (call charges may apply).